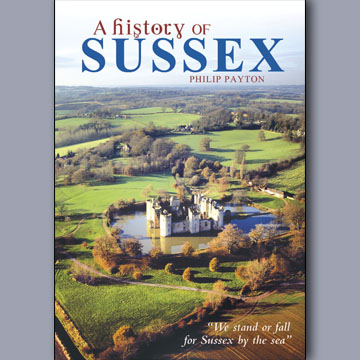 Philip Payton's history of the great county of Sussex is research with a genuine talent for writing, this superb new book tells the story of Sussex from ancient times to the present day, exploring some very interesting themes along the way.
"In writing this book I have been struck by just how much Sussex history is 'invasion' and fear of invasion. From those early hunter-gatherers to twenty-first century migrants, such 'invasions' have often been enriching. But there have also been invasions on the grand scale, bringing death and destruction and sometimes wholesale upheavals in governance, religion and culture. Which brings us to another strong theme: violence. Civil conflict, again detectable from earliest times, has been a regular feature of Sussex life, and the Civil War itself had a particular and vivid Sussex dimension. Most astonishing of all, perhaps, is the violence endemic in the Sussex countryside in the eighteenth and nineteenth centuries – encompassing smuggling, mutinies, riots, and protests – an aspect of the county's past that has almost disappeared from popular memory."
This really is a great book. It is brilliantly readable, beautifully illustrated and comprehensive, and will be a must for anyone interested in the history of the county, or indeed Great Britain. This will definitely become a classic, look out for excellent reviews!
Click on the image above to pre-order your copy today. The book will available from 25 September.